Stone Striped Artisan-Made Rug, Small - Helpen Pets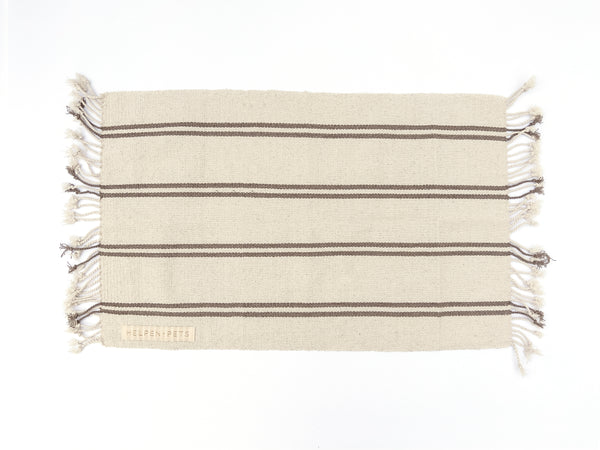 Stone Striped Artisan-Made Rug, Small - Helpen Pets
These limited-edition pet rugs are artisan-made by women weavers of the Karen tribe in Northern Thailand. The artisans use plant-based natural dyes (like wood and seeds) to hand-dye and hand-spin cotton yarns before weaving them into rugs on traditional backstrap looms. Each textile is uniquely beautiful and sits perfectly under your Helpen Pets feeder!
•This artisan-made rug is 14" x 22", crafted with 100% cotton, and plant-based natural dyes.

• Slight variations in color and weave may occur due to the nature of the materials.

• The eco-friendly materials are natural and safe for the environment, for you, and your beloved pet.

• This item was designed in California and made in Thailand by women weavers of the Karen tribe. Your purchase supports their craft and provides them with a sustainable income.

• Machine wash this item cold with mild soap on the gentle setting; line dry it in the shade.

• Every rug sold feeds an animal on streets for two weeks; thank you for making a difference!

 We believe our pets are our family and so we'll only design the very best for them. Let us know what you think and tag us on social media @HELPENPETS!