Set of 2 (4 cup) Food-Grade Stainless Steel Bowls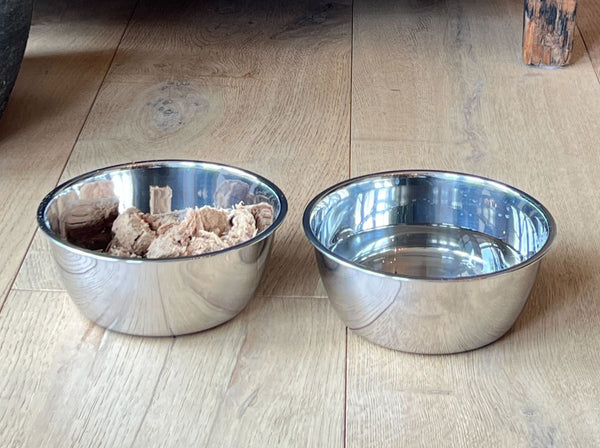 Set of 2 (4 cup) Food-Grade Stainless Steel Bowls
These bowls are made with only the most premium materials. We believe our pets are our family and so we'll only design the very best for them. 
304 FOOD-GRADE STAINLESS STEEL BOWLS SAFE FOR DISHWASHING: Set of TWO Premium Quality stainless steel bowls included. Our bowls are durable, rust-free, and safe for humans, pets and dishwashers.
Each batch of our stainless-steel bowls is tested by an independent lab to ensure that the levels of lead, mercury and cadmium to make sure they are up to 304 grade safety standards because not all stainless-steel bowls are the same! 
These are the same bowls that come with our elevated pet bowls.  Great to have extra sets.  They are even engraved with our logo and state the quality of steel on the bottom of each bowl.
**The purchase of every bowl goes towards feeding a homeless pet for 2 weeks and together we can all help get animals off the street, into warm arms and their own collar.

We won't stop until every tail is wagging and every dog or cat knows what love is. It all starts at your home: with you, your own pet, and their bowl.
Stainless Steel Bowls 6 3/4" Diameter 3" Tall
Each bowl holds 4 cups / 32 ounces