Chateau Grey Silicone Pet Food Mat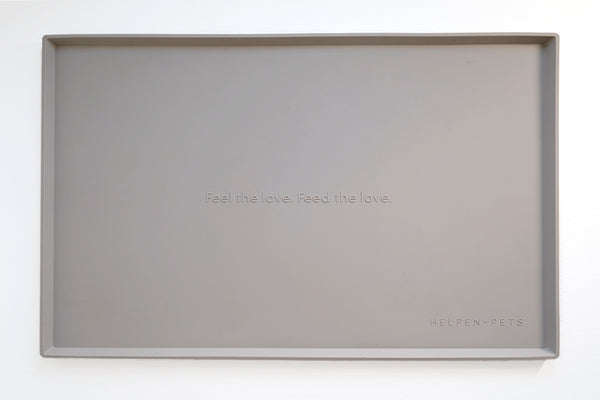 Health
100% Food Grade Silicone. BPA & Phthalate free

Durable & Safe
Heavy duty quality. Custom raised edge. Slip-proof & Spill proof

Giving Back
Purchase of this mat supports the feeding of a homeless pet
Chateau Grey Silicone Pet Food Mat
This stylish pet food mat is slip-proof, spill-proof, and dishwasher safe! Designed in California, it is made with non-toxic 100% food grade BPA & phthalate free silicone that is safe for humans and pets. This silicone mat comes in six colors that pair perfectly with your Helpen Pets feeder and your home decor...and it's ready for Instagram! "Feel the Love, Feed the Love" embossed at the center of the mat as a portion of each purchase goes towards feeding a homeless pet for 2 weeks. Together we can all help get animals off the streets, into warm arms and their own collar
• Dimensions: 14" x 22" with a 1/2" high edge

• Superior quality, durable, and non-toxic, this mat is safe for humans & pets

• Made with 100% food grade BPA free & phthalate free silicone

• Designed in California & made in China in an approved factory

• A high edge protects your floors and keeps them clean and dry

• Dishwasher safe and easy to clean with warm, soapy water

• Colors: Rose Cloud, Almond Milk, Grey Chateau, Sesame, Blacktop, Midnight (sold separately)

•This listing is for one silicone mat. Additional mats and Elevated Pet Feeders

are sold separately

• Packaged in a stylish box that is ready to gift to your favorite human or pet

 We believe our pets are our family and so we'll only design the very best for them. Let us know what you think and tag us on social media @HELPENPETS!

Health
100% Food Grade Silicone. BPA & Phthalate free

Durable & Safe
Heavy duty quality. Custom raised edge. Slip-proof & Spill proof

Giving Back
Purchase of this mat supports the feeding of a homeless pet
Raised bowl feeder
Absolutely gorgeous!!!! Very pleased with the quality of workmanship. Finnegan will love this!!
My Cat Loves Her New Feeding Station
I purchased the Scrollie Cat Elevated Pet Feeder, Chateau Grey Silicone Pet Food Mat, and Large LINE Feeding Mat. As soon as I set it up my cat was rubbing her face all over her beautiful new feeder. She came right over to kiss & thank her Mama. Her feeder looks like fine pet furmiture. The canvas mat and gray silicone mat make it cute & functional.
Helpen the Kitchen!
welp. we have no pets at the time… that being said, this lovely "pet food" tray is sitting on my new kitchen counters, holding dishes and counter paraphernalia waiting for the next thing (dishwasher, sink washing…) it's JUST what i wanted: a safe, soft, protective landing space on a counter that has already exploded one jar of avocado oil, yikes! love the size, the color and especially the function. highly recommend for whatever your purpose or need for Helpen...
Great quality! Thank you!
Pleased
Very happy with our purchase!!