Deep Rose Striped Artisan Pet Bed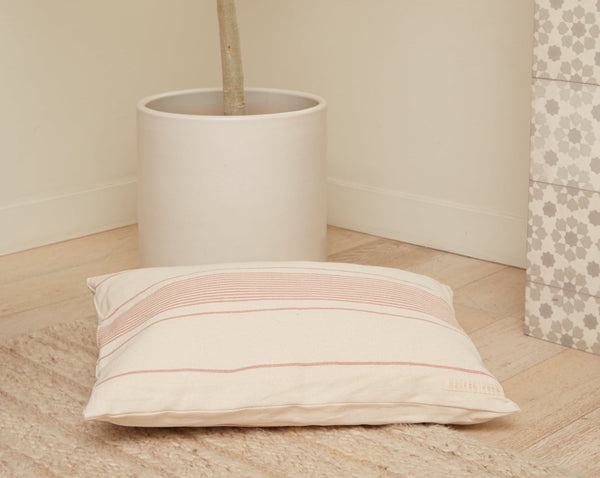 Deep Rose Striped Artisan Pet Bed
These cozy pet beds are artisan-made by women weavers of the Karen tribe in Northern Thailand. They use plant-based natural dyes (like wood and seeds) to hand-dye and hand-spin cotton yarns before weaving them on traditional backstrap looms. Each striped pillow cover is uniquely beautiful - and it is filled with eco-friendly kapok fiber that is super soft and fluffy! Perfect for Dogs & Cats 25 pounds and less.
• Dimensions: 20" x 28" 

• The pillow case is crafted with 100% cotton and plant-based natural dyes. Slight variations in color and weave may occur. Concealed zip closure.

• The pillow insert is made with the fluffy kapok fiber found inside the seed pods of tropical kapok trees. The fiber will naturally flatted over time. Fluff it by hand as needed.

• Our eco-friendly materials are natural and safe for the environment, for you, and for your beloved pet. 

• Designed in California & made in Thailand. Your purchase supports women weavers

of the Karen tribe in Northern Thailand

to continue their craft and earn a sustainable income

• Pillow Cover: Machine wash in cold water with mild soap on the gentle setting. Line dry in the shade. Insert: Spot clean by hand only. 

• Available in two colors: Natural with Deep Rose stripes and Natural with Stone stripes. Sold separately. The Artisan Blanket is also sold separately.

• This artisan pet bed will look gorgeous in your designer living room, bedroom, or office and provide your pet with a warm, cozy place to rest.

• Every bed sold feeds an animal on the streets for two weeks. Thank you for making a difference and creating a positive, long-lasting impact. Feel the love. Feed the love

 We believe our pets are our family and so we'll only design the very best for them. Let us know what you think and tag us on social media @HELPENPETS!