Rose Cloud Pink Silicone Pet Food Mat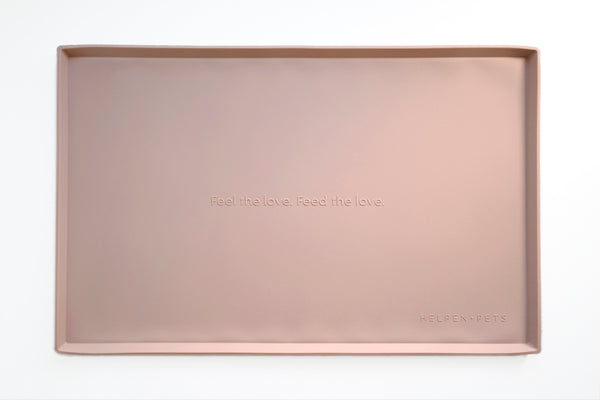 Health
100% Food Grade Silicone. BPA & Phthalate free

Durable & Safe
Heavy duty quality. Custom raised edge. Slip-proof & Spill proof

Giving Back
Purchase of this mat supports the feeding of a homeless pet
Rose Cloud Pink Silicone Pet Food Mat
This stylish pet food mat is slip-proof, spill-proof, and dishwasher safe! Designed in California, it is made with non-toxic 100% food grade BPA & phthalate free silicone that is safe for humans and pets. This silicone mat comes in six colors that pair perfectly with your Helpen Pets feeder and your home decor...and it's ready for Instagram! "Feel the Love, Feed the Love" embossed at the center of the mat as a portion of each purchase goes towards feeding a homeless pet for 2 weeks. Together we can all help get animals off the streets, into warm arms and their own collar
  • Dimensions: 14" x 22" with a 1/2" high edge

• Superior quality, durable, and non-toxic, this mat is safe for humans & pets

• Made with 100% food grade BPA free & phthalate free silicone

• Designed in California & made in China in an approved factory

• A high edge protects your floors and keeps them clean and dry

• Dishwasher safe and easy to clean with warm, soapy water

• Colors: Rose Cloud, Almond Milk, Grey Chateau, Sesame, Blacktop, Midnight (sold separately)

•This listing is for one silicone mat. Additional mats and Elevated Pet Feeders

are sold separately

• Packaged in a stylish box that is ready to gift to your favorite human or pet

We believe our pets are our family and so we'll only design the very best for them. Let us know what you think and tag us on social media @HELPENPETS!

Health
100% Food Grade Silicone. BPA & Phthalate free

Durable & Safe
Heavy duty quality. Custom raised edge. Slip-proof & Spill proof

Giving Back
Purchase of this mat supports the feeding of a homeless pet
Help pens
I love the fact that the quality is safe and non toxic the color is beautiful and help homeless dogs ❤️
Fantastic
The mat and silicone mat are absolutely stunning. My kitten was very curious about it and found it comfy enough for her paws. It's nice and big and the color is purrfect.
Perfect, perfect, perfect!
Color is perfect and the size! Easy to clean! Say less.
Cute mat!
This is exactly what I needed for my little girl. I got the pink mat and it looks great in my place!