Soft Rose Artisan Blanket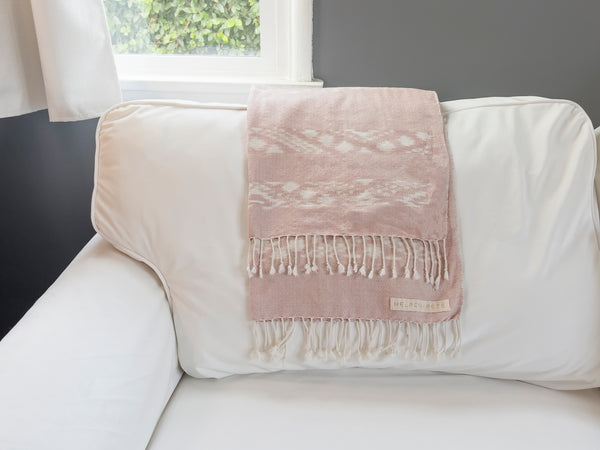 Soft Rose Artisan Blanket
These super special blankets are hand-woven by Weavers for the Environment in Northern Thailand using traditional ikat techniques. The artisans use plant-based natural dyes (like wood and seeds) to hand-dye wrapped sections of yarns to create the ikat pattern before hand-spinning and weaving on a floor loom. These limited edition ikat blankets are truly one-of-a-kind and special for your cat or dog.
• Dimensions: 54" x 27" with hand-twisted tassel

• Crafted with 100% cotton and plant-based natural dyes. Slight variations in color and weave may occur

• Our eco-friendly materials are natural and safe for the environment, for you, and for your beloved pet

• Designed in California & made in Thailand. Your purchase supports women weavers

 in Northern Thailand

to continue their craft and earn a sustainable income

• Hand wash or gentle machine wash in cold water with mild soap. Line dry in the shade

• Available in two colors: Soft Rose ikat pattern and Stone ikat pattern.

Sold separately

in our shop

 

• Wrap your pet in this beautiful blanket to create a warm, cozy feeling and a stylish look!

• This special blanket is packaged in a cloth logo bag with a drawstring that's perfect for gifting to your pet, friends, and family

• Every blanet sold feeds an animal on the streets for two weeks. Thank you for making a difference and creating a positive, long-lasting impact. Feel the love. Feed the love

 We believe our pets are our family and so we'll only design the very best for them. Let us know what you think and tag us on social media @HELPENPETS!